Sports related events appear on the event calendar of our sister publication In Play! magazine. Check it out!
Sleighing Hunger Annual Charity Concert
December 21, 2018 @ 8:00 pm

-

11:00 pm

$25
Sleighing Hunger Annual Charity Concert to Benefit 16 local Foodbanks
Update: Sleighing Hunger Raises Record Amount
The fundraising concert will benefit 16 local foodbanks in partnership with Windsor-Essex Food Bank Association (WEFBA) and Chatham Outreach for Hunger (COH). This is the largest number of organizations to be assisted by the charity concert since it came to The Colosseum stage in 2013.
June Muir, Executive Director of the Unemployed Help Centre, says, "The Windsor Essex Food Bank Association relies on the generosity of the community and partners like Caesars Windsor and St. Clair College in order to raise food and funds for those in need in the local area. It's so wonderful to know that all the proceeds raised from The S'Aints Sleighing Hunger concert will stay local and help our food banks continue to feed our most vulnerable friends and neighbours during the Christmas season and beyond."
The WEFBA is a community based not for profit organization comprised of 15 local food banks. Collectively they enhance their ability to reach thousands of individuals and families in Windsor and Essex County who need emergency food supplies. Thanks to the association, in 2018 they provided access to nearly 128,000 people in need locally. The foodbanks include Downtown Mission, Drouillard Place, Community Food Pantry Lakeshore, three Salvation Army locations, Unemployed Help Centre, The Well-Come Centre, Windsor Homes Coalition and more.
Chatham Outreach for Hunger (COH) is a non-profit charitable organization servicing the Chatham-Kent region. Supported entirely through the generosity of the community, in 2017 they served over 3,800 households, providing nutritious meals for those in crisis.
Brenda LeClair, Executive Director of COH, "We are grateful to all involved for making this happen. Your support is feeding families and together we are making a difference."
This is the 5th year The S'Aints, St. Clair College and Caesars Windsor have partnered to raise funds through the holiday concert. With 100% of the ticket sales proceeds going back to the community, they have successfully raised nearly $200,000 to feed those in need since 2013.
Jeff Burrows, band member and drummer for The S'Aints, says, "This is truly the one big show everyone in the band looks forward to throughout the entire year. The opportunity to perform on such a grand stage, while raising funds for our local food banks is truly a special opportunity and an honour."
"We have a few surprises up our sleeves this year and cannot wait to put everyone in the holiday giving spirit."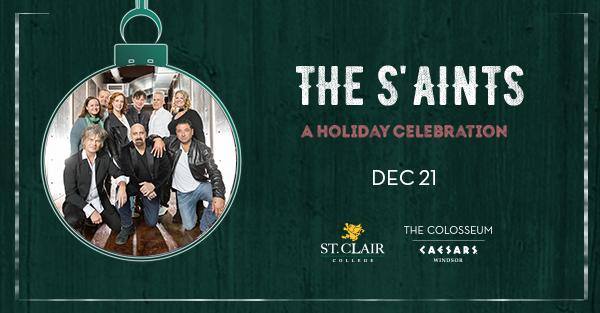 Patti France, St. Clair College President, says, "The S'Aints show has become one of this area's most popular holiday traditions, providing essential funding to local food banks, and spurring awareness of the year-round dilemma of hunger in our midst. St. Clair's students and staff are always pleased to be engaged with our community – and never more so than in the case of this cause."
A big thank you to this year's media sponsors: AM800 Bell Media, Devonshire Mall and The Windsor Star. Stay tuned for exciting sneak peek events throughout the community before the December 21 show date at Devonshire Mall and The Windsor Star Café.
This is a great way to give back to the community and celebrate the holidays. Don't miss out on this family fun ALL AGES show with The S'Aints band!
Tickets are only $25 Canadian + applicable taxes and are on sale NOW! Caesars Windsor Box Office hours are Friday, Saturday, Sunday from noon to 8 pm and on additional show days. Show days open until midnight.
Tickets are also available at St. Clair College campuses, Devonshire Mall Guest Services and ticketmaster.ca.
Facebook Comments
Dates and times of events are subject change. Please contact organizers to confirm details.
Biz X magazine is committed to fostering a lively but civil forum for discussion, we encourage all our readers to share their views on our articles, blog posts and events. We ask that you not make personal attacks and please keep your comments relevant to the topic and respectful. Any comments that are abusive will be deleted. The views and opinions expressed at these events are not necessarily those of Biz X magazine or its advertisers. We have chosen the Facebook platform to reduce anonymous comments. Thank you.
Facebook Comments